OZONE KITES UK
Inspired by nature – Driven by the elements
Ozone is one of the world's leading manufacturers of Kites and Paragliders, created around a dedicated team of passionate riders and pilots that share the same outstanding passion for nature, exciting sports and progress.
Keeping true to our philosophy of creating products that we love to use, we extend that same passion into every aspect of the brand, working hard to innovate not only the products we create but also in our business practice and manufacturing process.
We are proud of what we do and of who we are. Our core mission is to progress our sport through technological innovation, intensive R&D and sustainable business models.
Fast Shipping
Same day shipping on orders placed by 12pm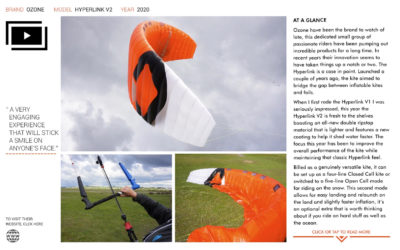 IKSURFMAG have just published their latest issue and in it there is a review of the new Hyperlink V2. The kite receives great feedback thanks to the ease of use and how comfortable riders feel on the Hyperlink. Here is what they had to say: If you've never flown one...
read more